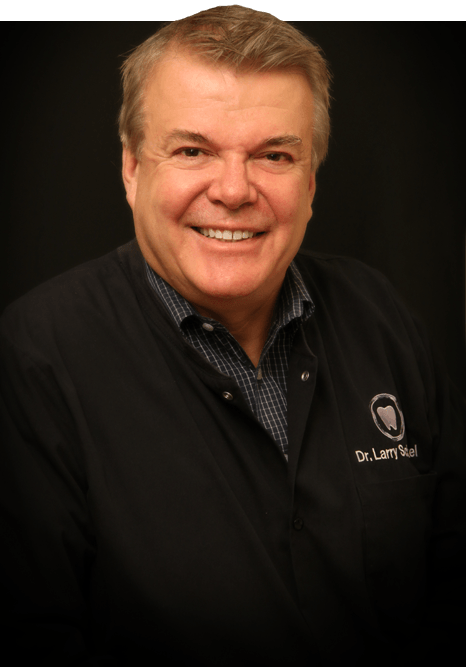 Dr. Larry Schmakel
Dr. Larry Schmakel is known throughout the Toledo metropolitan area and Northwest Ohio for his professionalism and excellent patient care. His patients are well aware of Dr. Schmakel's dedication; he became a dentist so he could help people maintain and improve their health. And he enjoys his work as a dentist in Toledo!
Patients often hear him say, "Healthy mouth, healthy body, healthy heart." It means if you take care of your teeth and gums, your overall health improves. In fact, people who keep their natural teeth as opposed to having dentures can live an average of 10-12 years longer.
Dr. Schmakel is a Toledo area native and a graduate of Central Catholic High School and University of Toledo. While at UT, he received four Varsity letters in tennis. As a teenager, he worked in the Toledo Mud Hens locker room shining shoes, doing laundry and other exciting tasks. He had connections to get that job – his brother Jim Schmakel, who currently works as the Locker Room and Equipment Manager for the Detroit Tigers.
Sports and exercise continue to play a role in Dr. Schmakel's time outside the office. He served as referee for high school and college football and basketball, and for 13 years officiated basketball in the MAC. He also worked as a tennis instructor and still loves the game and participates in a local tennis league.
Dr. Schmakel studied Biology at the University of Toledo and earned his Doctorate in Dental Surgery from The Ohio State University. He received the Fellowship Award from the Academy of General Dentistry and completed six Continuums PLUS at the L.D. Pankey Institute for Advanced Dental Studies.
Dr. Schmakel is committed to continuing education and participates in courses to maintain the most up-to-date knowledge of dental procedures. He is a member of the Cerec Faculty Club at the prestigious Scottsdale Center for Dentistry, a continuing education facility for dentists. He also was invited to become a member of the exclusive Spear Faculty Club at the Center – those members serve to mentor and assist in continuing education. The Spear Institute is recognized internationally for its leadership in post graduation education.
His professional memberships include the Ohio Dental Association, the Chicago Dental Society, the Toledo Dental Society, the American Dental Association, the Academy of General Dentistry, the Academy for Sports Dentistry, the AAFE (American Academy of Facial Esthetics) and the Academy for Dental Sleep Medicine. He served as a spokesperson for the Ohio Dental Association and was an advisor to the ODA for Sports Dentistry.
Dr. Schmakel is proud to be your dentist in Toledo!